To top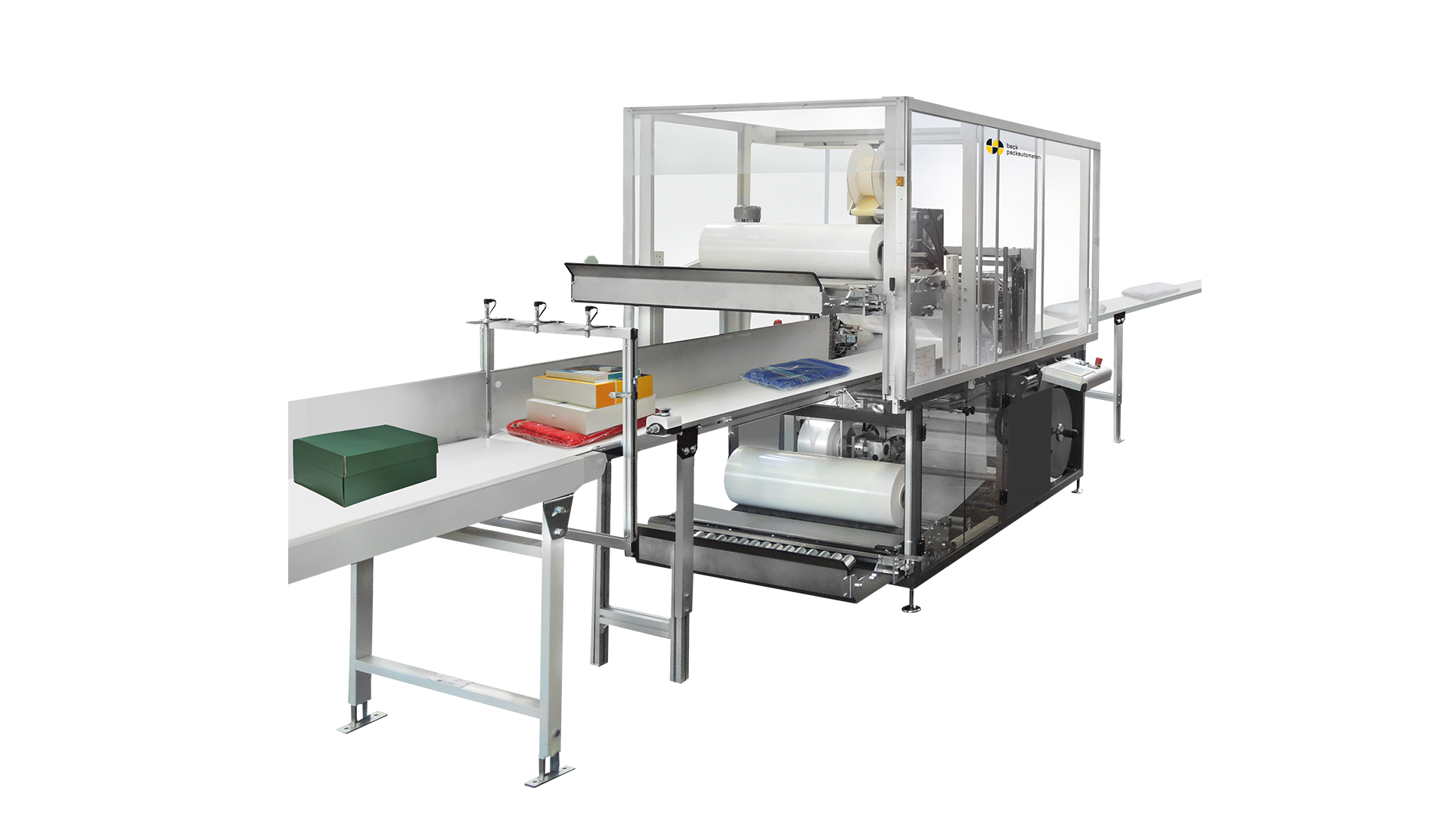 beck-Serienpacker SXJ HP vs
Film bags for shipping products via e-commerce

This fully-automatic film packaging machine for shipping e-commerce products works according to the specialised beck-Serienpacker principle, with 2 rolls of flat film for 4-sided product sealing. The Serienpacker principle ensures a continuous and controlled product and film feed to produce tight, attractive packaging with stable sealing seams.
Details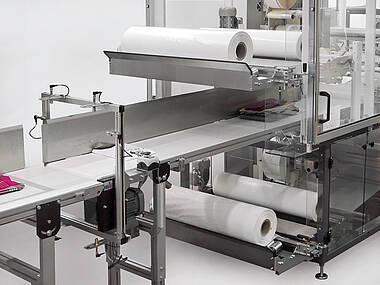 Film storage and sealing on device: for a timely optimized film roll change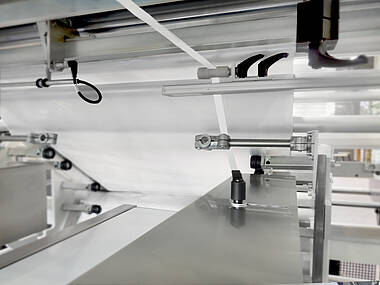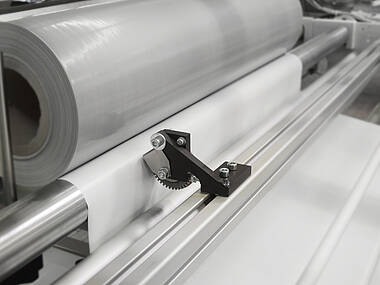 Tear open perforation system: for the easy opening of the film bag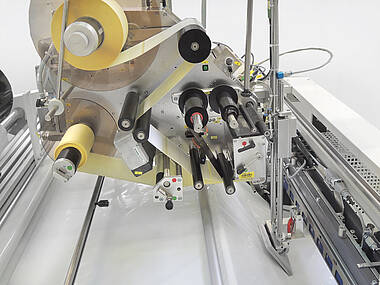 Integrated labeler: Labeler for applying address labels onto the film
Packaging of mail-order merchandise with shipping label on beck-Serienpacker SXJ HP adapta
All videos ›
The beck-Serienpacker SXJ HP vs can be used as either a stand-alone or online solution in the logistics area.
Equipped with a well-developed product pursuit system, which can handle production data recording both with a scanner and with a camera, the beck-Serienpacker SXJ HP vs uses linked labelling modules and specialised sealing systems to create stable, visually appealing shipping bags of consistent sizes. To optimise downstream logistics processes, a function has been integrated to prevent empty bags from being created, if product feed is not continuous. This ensures a smooth shipping process.
The packaging concept of the beck-Serienpacker SXJ HP vs is efficient in its use of energy and resources. In addition, all of our packaging machines can process recyclable monofilms, films made of recycled materials, bio-films and many other environmentally-friendly film types.
In addition, we offer the option of integrating various scanning, marking and labelling systems, and collection and grouping stations, and are happy to work with you to develop these options as needed.
Overview of advantages:
Sustainable, high-quality and durable design
Space-saving thanks to compact construction
Optimal accessibility
User-friendly with easy adjustment and product memory
Energy-saving, intelligent drive and control systems
Continuously heated, low-maintenance and regulated sealing systems
Processing dyed films of all kinds
Stable sealed seams for secure transport
Shipping bags always equally sized
Specialised e-commerce design
Can be equipped with a variety of options:
Integration of scanning, marking and labelling systems
Integration of infeed and outfeed conveyors
Integration of reject systems
Integration of different packaging solutions
Product length:
Unlimited
Product width:
100 - 400 mm*
Max. product height:
250 mm*
Max. output:
30 cycles/min*
*depending on products, feeding, labelling and film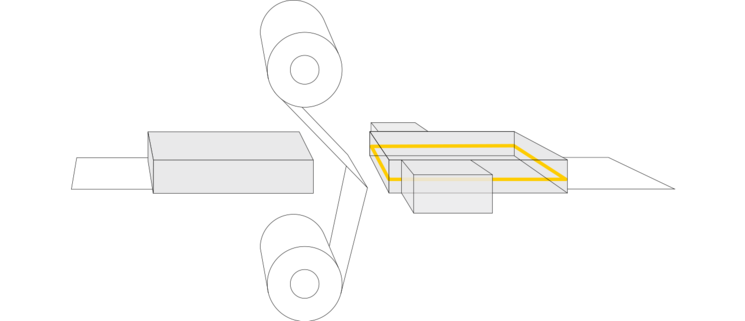 Serienpacker for E-commerce and mail order: Back and forth with success.
Whether the same size or adapted for the product. With printed film or with clear view to the product. Our Serienpackers for the E-commerce industry meet many different requirements. With scanning and labelling, including continuous product tracking − this is our standard.
Suitable packaging Solutions
Film packaging from beck packautomaten: Versatile application and protective packaging
Protective, flexible and versatile Film packaging from beck packautomaten will impress you for the packaging of your products. Secure protection against moisture, dirt, dust or damage is just as guaranteed with this as visually appealing packaging. The tear-resistant and universally usable material makes possible flexible solutions that can be customised individually for each product. Even sensitive and perishable products such as food can be packaged easily and without loss of quality and for transport and sale with film packaging.
Product-specific solutions with beck film packaging

beck packautomaten develops product-specific solutions with you for the perfect film packaging of your products. Whether with side sealing or banding, reclosable or with tear-open strips – We package your goods so that they are kept safely during the transport and at the same time can be handled easily and practically by the end user. For example, we also supply packaging with carrying grip or carrying handle that mainly positively influence the storage and presentation in the textile industry. Also set packaging, marked and labelled film packaging, print images and packaging with Euro slot are possible. Thanks to the versatility of film packaging and the unique technology of beck packaging machines, your requirements can be individually implemented with film packaging.

Film packaging Ideally suitable independent of industry and product

Not only product but also industry independent, film packaging represents a popular and ideally suitable option. For example, film packaging protects books against creased pages and at the same time allows customers to look at the cover. Textiles in film packaging can also be visually assessed properly and remain protected against soiling and damage. And even food, household products, technical products and other consumer goods can also be packaged with product and customer friendly films. The advantage: The contents of the packaging can be seen at a glance and the purchase uncertainty is reduced.

beck packautomaten provides customised solutions for the optimum film packaging of your products. Both individual products and smaller batches as well as large quantities and multipacks can be realised using film packaging machines from beck packautomaten. We optimise packaging results and processes with standard machines and customer-specifically designed packaging lines. Let yourself be impressed by the film packaging from beck packautomaten.