To top
Far-sightedness, visions and pioneering packaging.
Whether chocolate box, face mask or wooden floor, packaging fulfils important functions and life would be inconceivable without it today. beck is a pioneer and trailblazer for clever packaging in film and, recently, in paper for a large range of branches and requirements.

On 09 May 2020, the family-owned company from Frickenhausen, with an international reputation celebrated its 60th birthday – Reason enough for taking a short journey through six packing decades and lots of good decisions.
1956 - 1958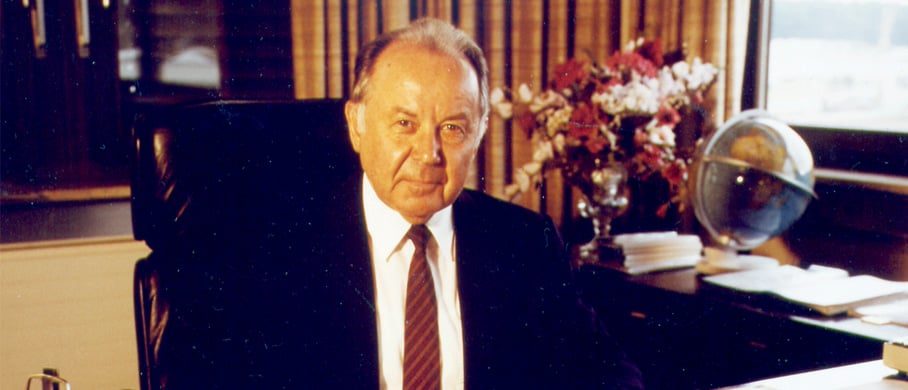 A packing idea that matches the spirit of the time.
Always working with passion and innovative spirit: Inventor and company founder Hans Beck.

In the mid-1950s with the trend for supermarkets, demand for product packaging spreads from the USA to Germany. The Nürtinger textile entrepreneur Hans Beck dreams of presenting his products in attractive packaging. After intensive tinkering in his garage at home, he builds the first prototype of his fully automatic "Nürtinger Textilpacker".

News of the "Nürtinger Textilpacker" spreads like wildfire across the textile branch and is pioneering for film packaging machines around the world.
1958 - 1960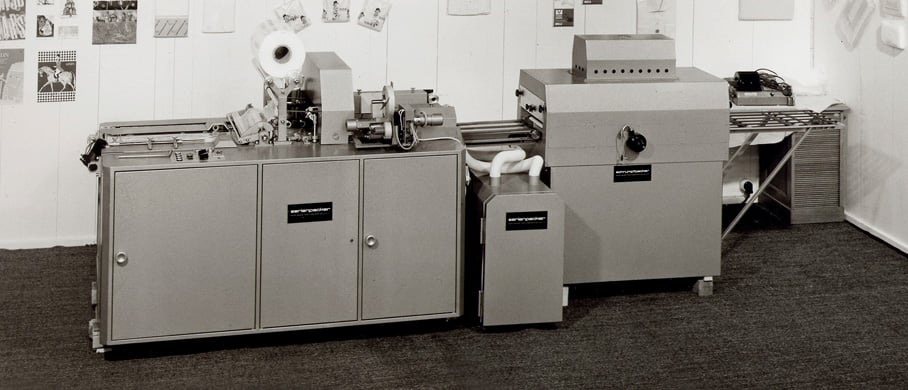 Demand grows. And grows. And grows.
As ever more textile companies become interested in his packaging machine, Hans Beck founds his first engineering company: "Nürtinger Textilpacker beck + Co." starts work on 09 May 1960. Other branches also desire a packaging machine, which automatically packs products in film. As a result, the company is briefly renamed "beck + Co. packautomaten".
1960 - 1965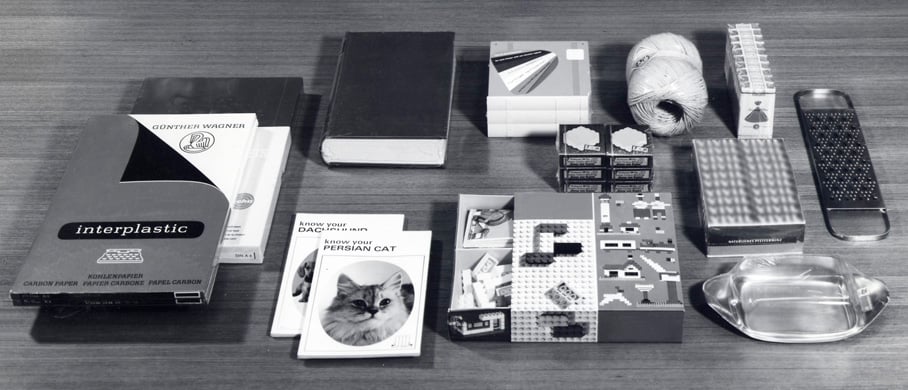 beck – a name becomes a program.
New and further developments are the answer to increasing demand from different branches.

Alongside the textile branch, ever more enquiries are received from the printing industry. As a result, film packaging machines from Nürtingen are soon packing the first books, greetings cards and paper goods.

Over a long period, the print and paper industry was a key branch that has been increasingly replaced by other branches under the influence of digitalization. However, what was the case then is still the case now: the passionate drive to reach to a changing market looking toward.
1960 - 1965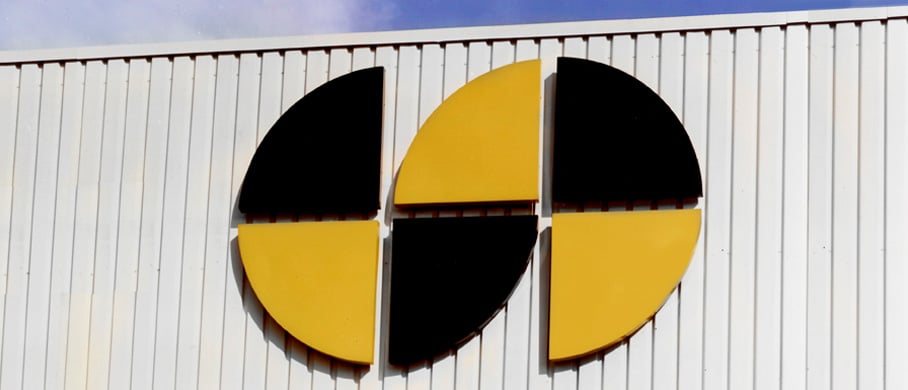 The logo of a success story.
The beck Serienpacker was developed for market entry in other branches. Based on its packaging technology, the black-yellow logo, which shows two rolls of film approaching each other, becomes the new trademark for beck – and globally a symbol for maximum precision.

With its principle of four-sided sealing, the beck Serienpacker even today has a unique selling point in the branch.
1965 - 1980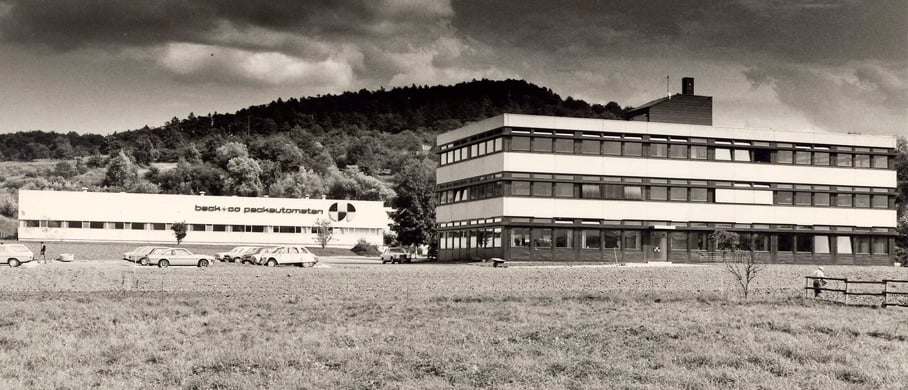 Growing further – getting better.
The number of employees quickly grew and Hans Beck dedicated himself with elan to the development of new packaging machines. The demand for machines, fabrication rooms and specialists grows – beck moves to Frickenhausen in 1969.

Meanwhile, bakery goods, dairy products, drinks, wood, ceramic and plastic goods are being displayed in stores across Europe in attractive and practical packaging from beck.
1980 - 1990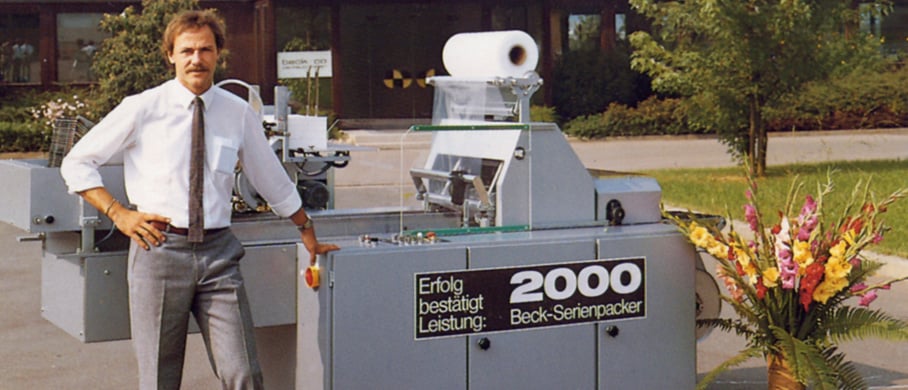 Great moments and fateful years.
In the early 1980s, the 2,000th Serienpacker is completed – and a gigantic order of 50 Serienpackers goes to Syria.

Data processing finds its way into the Frickenhausen administration and production. A building in Neuffen is purchased as a temporary store for the assembly and modern parts production on CNC machines.

Son Uli joins the company in 1981, but loses his life in a tragic accident in 1984. Daughter Beate follows in 1987 and joins the innovative family-owned company.
1990 - 2000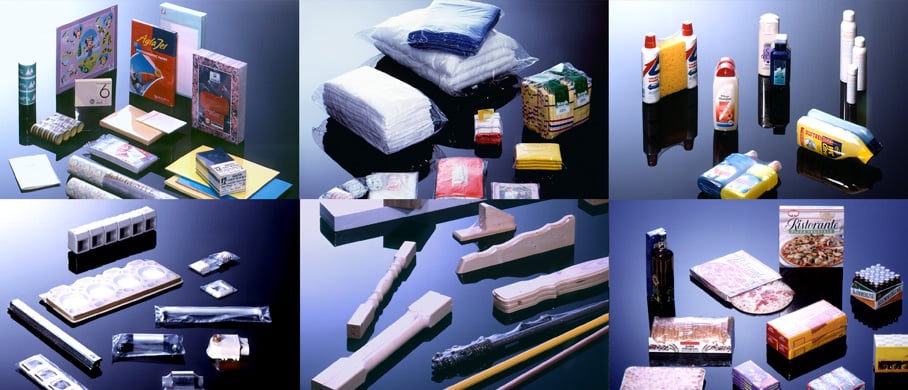 Local thinking, global action.
As part of the global expansions, the company concludes international partnerships in sales and service. The 90s are characterised by packaging trade fairs and exhibitions in relevant branches around the world.

For the areas of print and paper, textile, plastic, engineering, wood, food and beverages, logistics and automation, beck develops ever more specific systems precisely as required and according to customer needs.

In the 90s, international sales activities increase rapidly – today you can find beck packaging machines all over the world.
2000 - 2005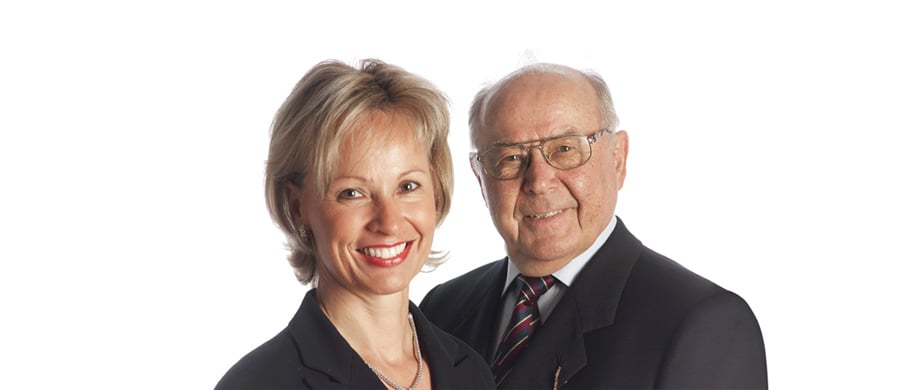 Innovations at every level.
In 2002, a female director is a novelty in the branch – like so many other pioneering developments in the family company.

Packaging machines from beck in Frickenhausen are seen all over the world as a symbol for quality and reliability. So that the company remains famous for forward-looking ideas in the area of film packaging systems, the entire machine program is realigned.

In 2002, Hans Beck hands over the reins to his daughter Beate, who further expands the legacy. With the new X line and special machines for mail-order, beck packaging machines prove that innovations remain the DNA of the company.
2005 - 2010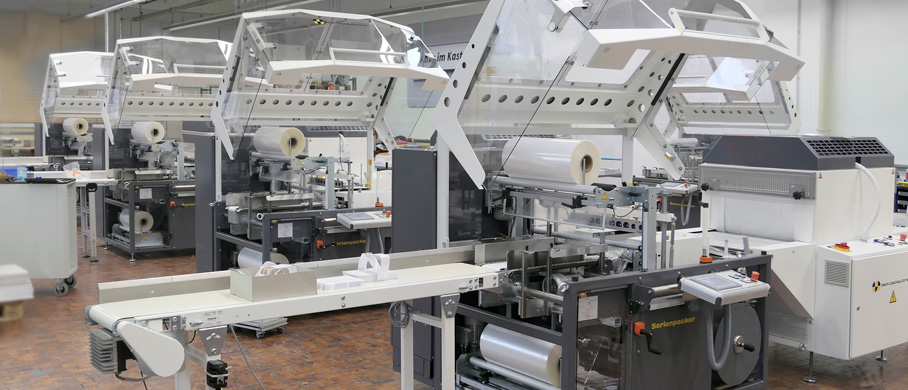 Between standardisations and specifications.
The global price pressure leads to the new development of standard and high-performance machines. In addition, the demand for flexible machines and solutions for the growing services industry increases. The machine technology is aligned towards ever smaller quantities and individual products.

beck expands the capacity in projecting and construction. At the same time, the work processes are modernised with new technology such as 3D design and E-CAD as well as with the ERP and CAE system. In 2010, the year of the 50th anniversary, the granddaughter of the founder, Julia Deharde, becomes the third generation to join the successful company.

With the anniversary Serienpacker and huge amounts of pioneering and team spirit, the company celebrates its 50th birthday on 09 May 2010.
2010 - 2019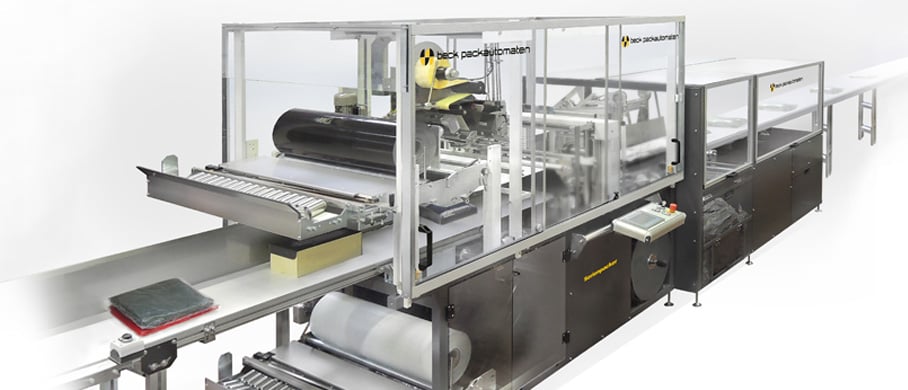 E-Commerce and Sustainability.
Pioneering new developments for the growing e-commerce and sustainability in the area of packaging material and machine construction go hand-in-hand at beck. Solutions for sending in letterbox format and the tight packaging of large-volume products are being developed for e-commerce in order to save material during transportation. The sealing tools are aligned to process recyclable mono-films or films made from recyclate. Energy-efficient drive systems, minimising the use of compressed air and an ever more compact design taken into account the requirements for sustainability in this area.

With the new shrink tunnel, becks sets a benchmark for efficiency and sustainability.
2020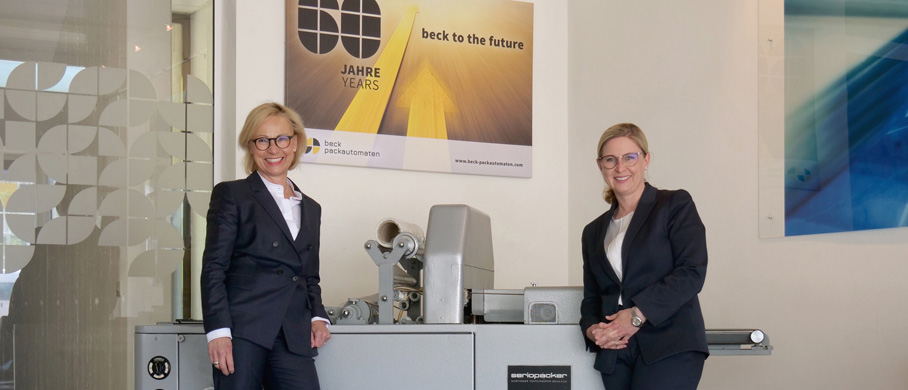 Through the crisis at the age of 60 "beck to the future".
In 2020, beck packautomaten enters its 60th anniversary year and is launching its first packaging machine that uses paper as a packaging material. Its first use in the e-commerce branch, and other branches will follow. The company is facing up to the global corona crisis with uninterrupted innovative spirit and internally consistent hygiene measures for its employees, suppliers and customers.

As a company and employer, the company is well positioned for the future: with ideas that have always reacted to changes, and with people, who know that keeping together and looking forwards in uncertain times is most important – now and in the future.

beck is opens its e-commerce centre, for dialogue with customers is what has made the difference for 60 years.
2021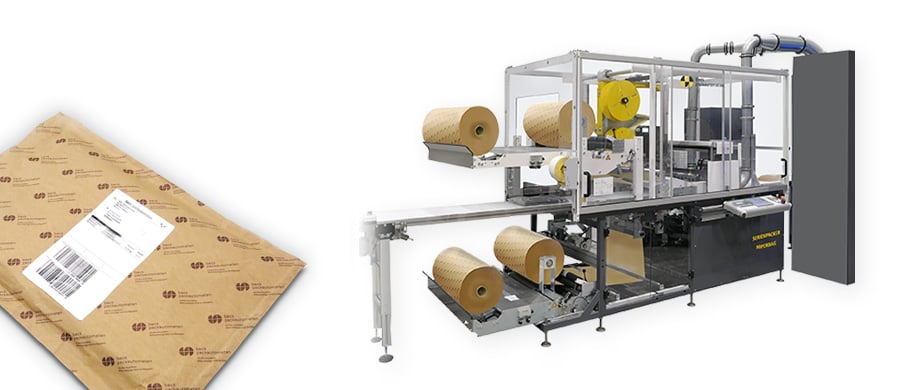 Sustainable packaging for all goods - in paper and film.
Following the introduction of paper packaging for e-commerce, other sectors are following suit, where the use of paper instead of film is possible. In doing so, beck follows the slogan - paper when possible, film when necessary.

Depending on the purpose and application, the customer will continue to have a choice in the future. They can choose from a wide range of sustainable packaging in paper and film.
2023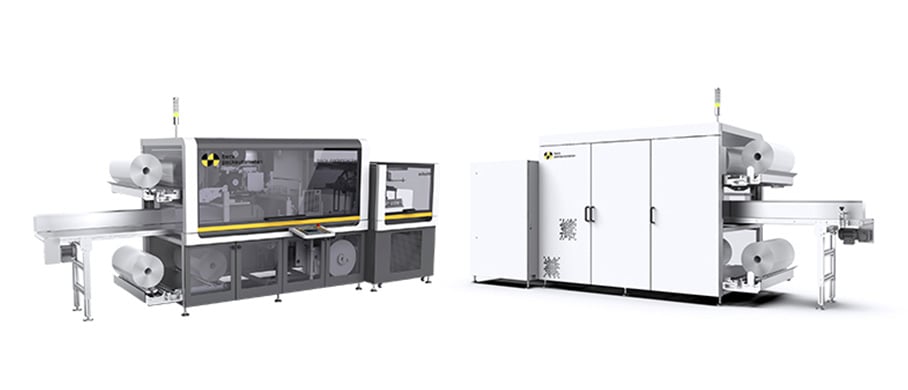 Packaging machines that impress in terms of packaging and operation.
To make it even easier to pack a wide range of products for shipping and e-commerce in the future, faster and more efficiently, beck's design engineers have adapted and optimized the machine concepts to the spirit of the times and optimized them.

The new machine design provides machine operators with maximum user-friendliness and plenty of time savings.

But that's not all: whether it's simplified access to the machine, integrated control cabinets for greater convenience or mobile operation via SmartServer for tablet or PC, beck's ergonomic solutions now offer more for everyday logistics and everyday packaging work.
beck packautomaten:
The packaging manufacturer
for your success
The protective packaging of products has a decisive influence more than ever before on the company success as not only logistics and economic factors depend on it but also purchasing decisions and customer satisfaction are significantly influenced. Accordingly, not only protection plays a role for high quality packaging but also the efficient use of resources and the visual components of the packaging. The appropriate solution and thus the choice of a professional packaging manufacturer should therefore not be left to chance.
beck packautomaten provides you with not only flexible standard machines for paper, film and shrink-wrap packaging of many different products but also the development and integration of individual packaging lines for efficient processes.
Customised solutions for all industries and products
With beck packautomaten, you have found a packaging manufacturer who can provide intelligent packaging solutions across products and industries. We combine our specific technical know-how with extensive industry knowledge into an optimally matched packaging process.
We supply customised solutions completely in accordance with your needs for:
› Print and paper products
› Textile products
› Shipping and return applications
› Plastic and rubber products
› Technical products
› Food and beverages
› Household and recreational products
› Contract packaging
› Health Care
› Wood products

Our machine technology includes state of the art Serienpackers, form, fill and seal machines, banding machines and shrink tunnels that provide high quality packaging results thanks to outstanding functionality.
Innovative technology and first class service at beck packautomaten
As an innovative, family-managed business, our knowledge, our experience and our unique packaging machines represent the capital that makes us one of the leading packaging manufacturers. You can expect not only the best technologies and packaging results from our competent expert team but also comprehensive and personal service. Not only before the purchase but also after commissioning of the packaging systems, we are always a strong partner at your side and support you in the technical area for training, servicing and overhauls. We always guarantee you efficient and high performance packaging.
Our customers have been putting their confidence in the innovative technology and the first class service of beck packautomaten for more than fifty years. Therefore, we do our best every day to be able to offer you individual and high quality packaging solutions. Our objectives are your satisfaction and your success.