To top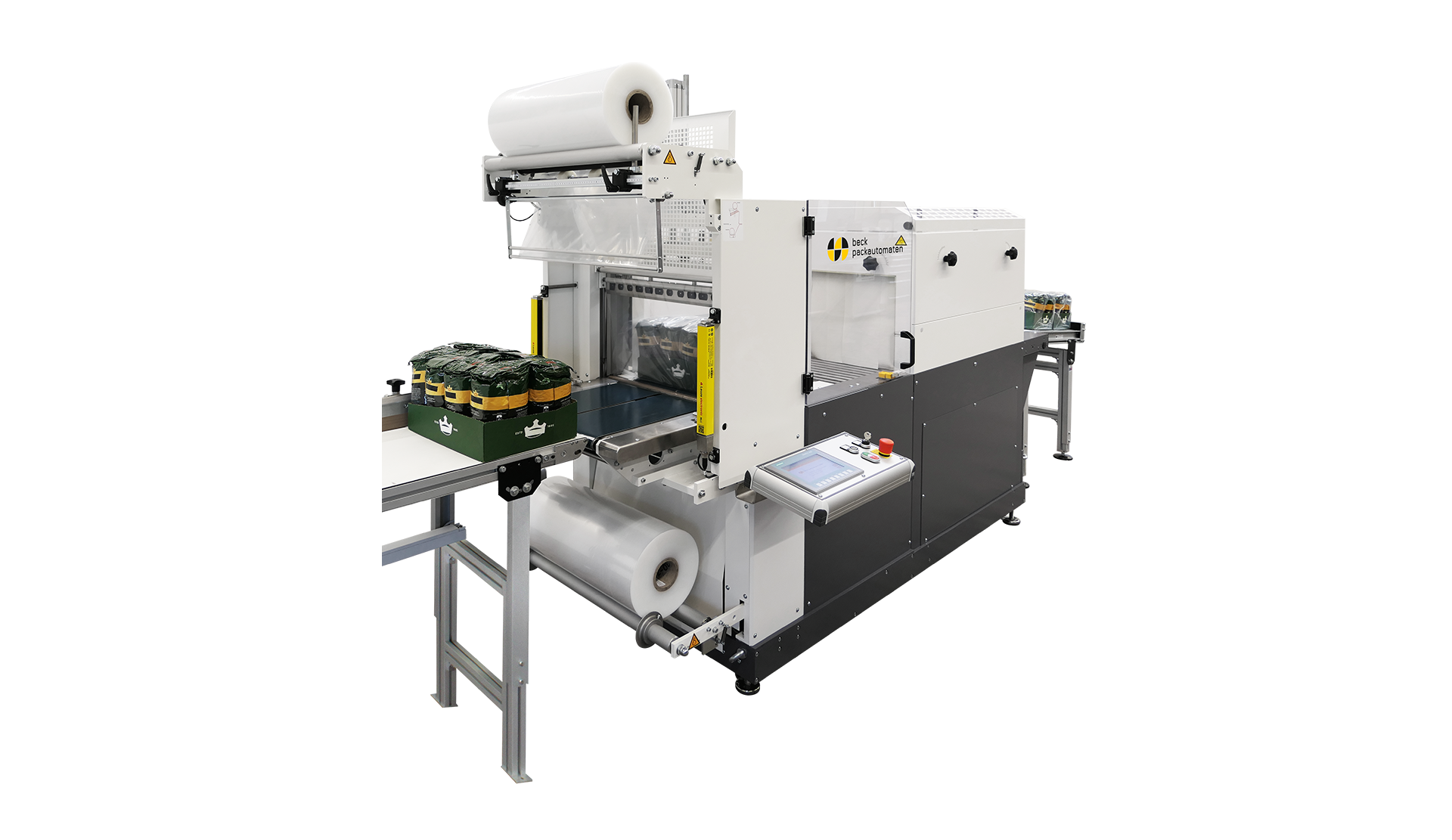 beck-Sammelpacker KV 602 HP on-line
Flexible sleeve packaging machine with 2-sided sealing

This fully-automated film packaging machine, which combines a packaging machine and beck shrink tunnel on a single base frame, works according to the sleeve-wrapping principle with 2 rolls of flat film for 2-sided product wrapping. The machine is unique in its capability to process products of different lengths and heights in any sequence, without the need to convert the machine. The system is mobile and can be used as a flexible backup machine.
Details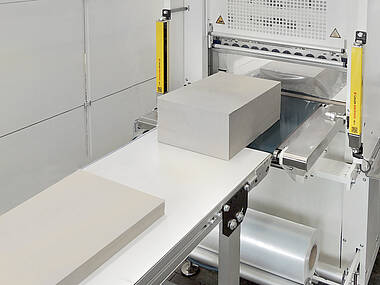 Mixed operation: Packing of products with different different heights and widths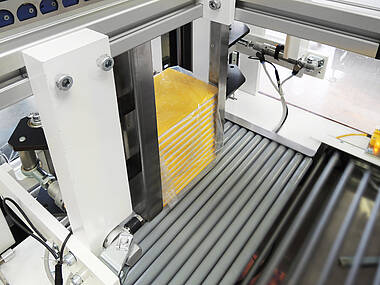 Aligning station: for the straight-edge alignment of the products to be packaged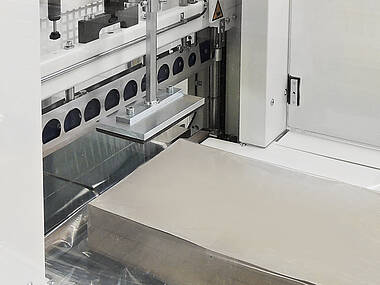 Down holding plate: mechanical system for film and product fixing during the cross sealing
All of our packaging machines can process recyclable monofilms, films made of recycled materials, bio-films and many other environmentally-friendly film types.
In addition, we offer the option of integrating various scanning, marking and labelling systems, infeed and outfeed conveyors, and collection and grouping stations, and are happy to work with you to develop these options as needed. We tailor your packaging system precisely to your needs and product requirements.
Overview of advantages:
Sustainable, high-quality and durable design
Space-saving thanks to compact construction
Optimal accessibility
User-friendly with easy adjustment and product memory
Continuously heated, low-maintenance and regulated sealing system
Energy-saving drive and control system
Stable sealed seam for optimal sleeve-wrapping
High flexibility: Mobile system suitable as a backup machine in various production lines with variable product sizes
Machine can be equipped with the following options:
Integration of marking and labelling systems
Integration of infeed and outfeed conveyors
Tunnel can be equipped with the following options:
Chain link conveyor
Various tunnel bars partitions
Transfer spindles upstream and/or downstream of the tunnel
Cooling fan
Blowing device and pressure rollers
Max. working width:
600 mm*
Max. passage height:
280 mm*
Max. output:
30 cycles/min*
*depending on products, feeding, labelling and film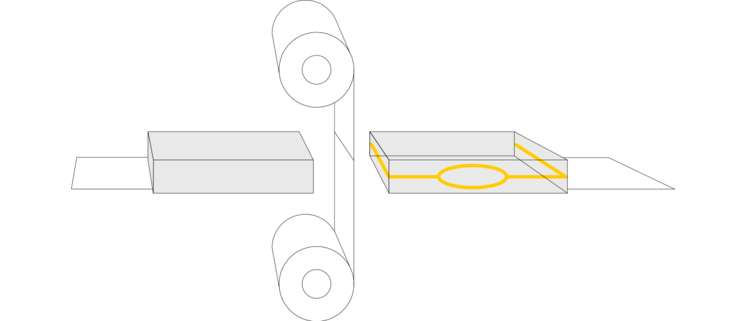 beck sleeve wrapping machines: All-rounder for single and multiple units.
The beck sleeve wrapping machines are real all-rounders. They offer reliable packaging for single and multi-piece units in all forms. With 2 rolls of flat film and 2 cross sealing movements, a sleeve and shrink wrapped packaging is made, which has an open outer side. The beck sleeve wrapping machines are used in stand-alone mode, as well as integrated into a production line, on-line or with a collecting and grouping station. Whether for manual or automatic feeding, the beck sleeve wrapping machines are available in different widths and for different performance requirements.
beck banding machines: The reliable all-rounders
Banding machines from beck packautomaten are the optimum solution for reliable and edge protection packaging of diverse products. The high quality all-rounders are specialised in banding of both single-item as well as multipack units. Two film rolls are used and, together with two transverse sealing movements, ensure open banding at the outer sides. beck banding machines are particularly frequently used in the area of print and paper products. However, food and many other products can be firmly and reliably grouped and packaged using a banderole.
Many possible applications of beck banding machines
beck packautomaten provides banding machines in different designs and configurations so that we can develop the appropriate solution for every packaging requirement. For example, products with different length and height can be banded using the beck case packer without changing the machine settings while the beck all-round packer is particularly suitable for round and roll-shaped products. We also supply the appropriate banding machine for large-volume and heavy products or particularly long cycle times. Thereby, you can select between various working widths and passage heights and thus match the machine to your performance requirements. Intelligent and easy to use control systems ensure simple and reliable operation. At the same time, you can be certain of only obtaining the best quality and most powerful banding machines that satisfy your high requirements.
Flexible integration and automated processes
The objective of beck packautomaten is to provide you with comprehensive and functional packaging solutions, using which not only is your packaging improved but also your processes are optimised. Therefore, the beck banding machines can not only be operated as standalone machines but can also be seamlessly integrated into your production line. On-line or used with collecting and grouping stations, they ensure smooth processes with high efficiency. The feed can be performed both manually as well as automatically – completely according to your requirements. The printing of the banderole, labelling and other individual requirements can also be realised with beck packautomaten. We are happy to advise you about our products and to find an optimum and individual packaging solution together with you.